The title says it all….but how is that possible?
For garbage disposal in a renovation, there are like two main options: A) renting a container or B) having a company pick up the debris…Well, if you have a large truck available, you can aways drop everything off at your local Eco-Centre. I didn't have a truck, nor the time to drop it off myself therefore I had to select between option A or B.
Option A was pricey, $550 for a 40 yards container and the city was charging $40 for the permit + $50/day to allow the container on the sidewalk. In addition, you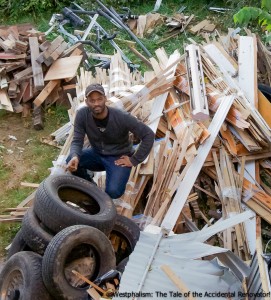 needed to coordinate with the container company for the delivery & pick-up of the container…While I had a large backyard, the access from the alley was quite restricted thus we couldn't drop the container in the yard….Quite unfortunate, that would have been the best option!
Option B was cheap, $240/18yards, we could simply leave the debris in the backyard and the company would pick-up on a weekly basis.
Option B was the most convenient since it wouldn't slowdown the demolition process + the cost per yard was $0.42 cheaper….it was a no brainer!!!
I couldn't have been more wrong!!!…I had budgeted 3K for debris disposal, and midway through the demolition, we had already reached 3K, grrrrhhhh!!! ;O( – I didn't understand how that was possible. At that point, I decided to go back to option A hoping that I would be able to slow down the bleeding.
I mean, at the rate I was going I would  spend close to 7K on gaarrbaagge DISPOSAL, really??? Who does that?!?!?!?
The lesson here it that packing a truck is not as efficient as throwing it all in a container, who would have thought???…I end-up renting two containers and got the second half of the debris out of the way.
Unofficially I saved 2K by stopping the bleeding ;o)…..but in reality I was 2K over budget ;o(
With only two weeks into this project, I'm already over budget, not a promising start…I'll probably have to make some comprises in the weeks to come.