Insulation is a renovation topic that can be a confusing considering  all the technical aspects involved. In this post, I will try to simply this topic to facilitate your decision making on insulation.
Being in a Nordic climate, it's important that we insulate our homes to protect us from the external climate. I think none of us like the idea of heating our streets vs. our houses. 😉 – for this reason, we need to understand how the building envelop of our home works?
The building envelop primarily consist of Doors & Windows (D&W) and Insulation…In my previous post I shared on D&W…now let's focus on Insulation.
Similar to D&W, when insulating, we need to meet a minimum technical criteria to protect us from the Nordic climate. This criteria is called the R-Value, as seen in the diagram. The materials that are use to create the protective envelop of our homes have a nominal R-Value associated to them. By making the sum the R-Value of each material it will give the total R-Value of your exterior walls. Being in zone B, I need to be at a minimum R-Value of 20.
Typically, Insulation is divided in the following categories: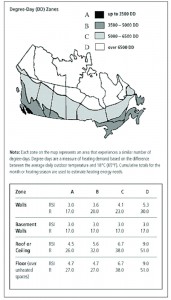 Blanket or Batt Rolls
Concrete Block Insulation
Foam Board or Rigid Foam
Insulation Concrete Forms (ICS)
Loose Fills & Blown
Reflective System
Rigid Fiber Insulation
Spray Foam
Structural Insulation Panels
How do you decide which one you should use?
Assess what are you keeping (e.g: i will not redo the brick facade of my house).
What's the R-Value of what you're keeping? (e.g: R-Value of 6)
What is your zone minimum requirement? (e.g: my zone is B, I need to be at R-value 20)
What's the difference between what's staying & the requirement of your zone? (e.g.: I need to add 18 in R-Value)
What's your budget?
Based on your budget you can select between the different categories above.
In my next post I'll share how I made my selection for my house….In the meantime, you can read more on  Insulation zoning reference.