I finally decided to put the house on the sale and see how the market would respond.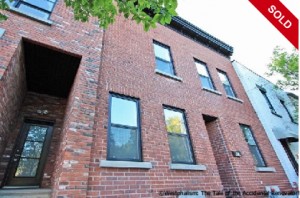 DuProprio:
In order to avoid commission, I decided to leverage duProprio and see how fast the house would sell. I'm not sure if I shared this or not, I actually sold my previous property on Craigslist…yup! you read right, on Craigslist!…I was only testing the market at the time and I hadn't expect it to sell…nevertheless it sold and I mitigated the commission.
As soon as 812LP was on duProprio, I received several calls for visits and even more calls from agents offering to list my property. Many agents were offering to reduce their commission in order to acquire the listing. Considering I had just put the house on the market, I stayed a few more weeks on duProprio. The feedback was constantly positive, however no offers were being made. Base on my observations, it appears that at a certain price point, the majority of buyers preferred to have a 3rd party  to handle the negotiation with the seller. Surprised, but accepting of this new reality,  I decided to list with an agent & show presence on Mls (the main site to sell properties in Canada).
Going on Mls:
I went with an agent I had previously worked with and I thought  he was quite active in my neighborhood. I don't believe in giving a listing for 6-month to an agent. I signed a 60 days contract, this way if it's not working well, I'm able to make the adjustment. When a property hits the market if it's hot, it will sell.  Upon being on mls, I was getting more visits from DuProprio vs.  Mls and there was no offers yet. The main comment from my agent was that the market was slow. When my contract expired, I didn't renew with the initial agent.
There was one agent, Sean, that seemed really eager to sell my property. From the time I was on the market on duProprio he brought several potential clients to visit the property. When my contract expired with the initial agent,  Sean came back to the chase and ask for the listing. Giving my experience with the first agent I was hesitant, but I took a chance with Sean and his partner Sebastien from the Londono Realty Group.
Wow, I had such an amazing experience with my new realtors  Sean Roseman & Sebastien Trottier. I can't give all their tricks away but not only did they manage to sell my property, but they were  able to get a biding war going.  I would definitely recommend RosemanTrottier. They are a young, dynamic and a strategic team; and without a doubt they understand real-estate.
I've moved out of 812LP, and with the assistance of RosemanTrottier I've purchased a new property where i'm looking forward to building my next dream home.

Stay tuned for the next edition of Westphalism!